Book Tip of the Week: "Berlin for Jews"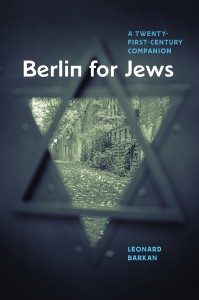 What is it like to travel to Berlin today, particularly as a Jew, and bring with you the baggage of history? And what happens when an American Jew, raised by a secular family, falls in love with Berlin not in spite of his being a Jew but because of it? The answer is Leonard Barkan's latest book Berlin for Jews: A Twenty-First-Century Companion. Part history and part travel companion, Leonard Barkan's personal love letter to the city shows how its long Jewish heritage, despite the atrocities of the Nazi era, has left an inspiring imprint on the vibrant metropolis of today.
The author is the Class of 1943 University Professor at Princeton, where he teaches in the Department of Comparative Literature and holds appointments in art and archaeology, English, and classics. On December 5, 2016, the Deutsches Haus at NYU and the New York Institute for the Humanities at NYU presented a reading by Leonard Barkan of his new book Berlin for Jews: A Twenty-First-Century Companion, and a conversation between the author and Ben Kafka, professor in the Department of Media, Culture, and Communication at NYU. The event was supported by the DAAD.
The book is available for $27.50 at NYU's bookstore and can be ordered online at www.bookstores.nyu.edu/main.store/
_________________________
Print This Post