KY: A Taste of Germany in Louisville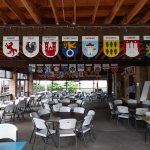 On March 19 from 3 to 6 p.m., the German-American Club Gesangverein will present a Taste of Germany with over 25 varieties of German food. Hans Sander will provide the live music.
The cost is $20 per person, and reservations are required. Call Karin at (502) 933-1220 to make your reservation.
Location: German American Club, 1840 Lincoln Ave, Louisville, KY
For more information, click here
_____________________________
Print This Post