LI: 42nd Annual Long Island Bavarian Festival
42nd Annual Long Island Bavarian Festival
June 11 – 12, 2016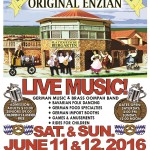 Original Enzian cordially invites you to join us at our 42nd Annual Long Island Bavarian Festival on the weekend of June 11th/12th, at Plattduetsche Park Restaurant, 1132 Hempstead Tpke, Franklin Square, NY.  Enjoy live music in an Oktoberfest atmosphere including Schuhplattler performances by our adult and kindergruppe, German food specialties, German import booths as well as games, amusement and rides for the kids.  Live music by the Foehrer Musik Freunde (authentic German brass band) as well as Spitze (all the way from Florida) will entertain the crowds on both Saturday and Sunday.
Location: Plattduetsche Park, 1132 Hempstead Tpke., Franklin Square, LI
Information: Doors open Saturday at 2pm and Sunday at 12noon. Call 5163543131 and visit  www.libeerfest.com
———————————————————————————————————————————
Related posts:
Related posts brought to you by Yet Another Related Posts Plugin.
Print This Post