Mercedes-Benz Launches Private Car-Sharing Scheme in Munich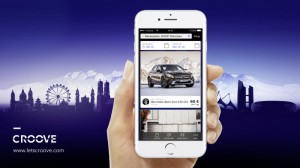 Straightforward, safe and reliable – The new car-sharing platform from Mercedes-Benz will go online at the start of December. Croove is the name of the new app-based service that pairs up private vehicle owners and hirers. The Croove scheme will be launched in Munich to begin with and is open to any brand of vehicle. Besides this, the peer-to-peer car-sharing platform is another example of a CASE strategy project that has advanced from idea to implementation. The acronym CASE is the name given to the specific area of strategy at Mercedes‑Benz Cars that focuses on the future-oriented issues of "connectivity", " autonomous driving", "sharing" and "electric drive systems".
Innovative and flexible mobility services have formed part of the Daimler AG business model/portfolio for a long time now. As it transforms from premium vehicle manufacturer to mobility provider, the company is continually expanding its range of services. In the process, the focus is being placed more than ever on people and their requirements. By founding the new car-sharing platform Croove (http://www.letscroove.com/), Mercedes-Benz is giving further impetus to the mega trend of the sharing economy that promotes sharing rather than owning. The crucial difference compared with car-sharing models like car2go is that Croove now lets private vehicle owners share their car too.
To continue reading, click here
___________________________________
Print This Post