NY: Ambassador Wittig and Katarina Witt to Lead Steuben Parade as Grand Marshals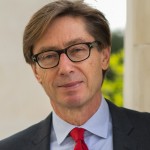 The German-American Steuben Parade Committee of NYC, and its General Chairman Robert Radske are proud to introduce the Grand Marshals for the 59th annual German-American Steuben Parade, taking place on Saturday, September 17, 2016. Katarina Witt, the tremendously popular two time Olympic Gold Medalist from Germany, will lead the way on Fifth Avenue!  She joins German Ambassador to the US, Peter Wittig, as Grand Marshal of 59th annual German-American Steuben Parade!
Peter Wittig has served as the German Ambassador to the United States since April 2014. He was German Ambassador to the United Nations in New York and represented Germany during its tenure as a member of the UN Security Council in 2011 and 2012.  There, he drew on his wide expertise in United Nations matters, having previously served as Director-General for United Nations and Global Issues at the German Foreign Office in Berlin.
Katarina Witt was born in East Germany and resides in Berlin, Germany. In addition to her ice skating fame, she is a sports entertainment producer, TV host, actress, author, motivational speaker and humanitarian. Witt rose to become a two time Olympic Ladies Figure Skating gold medalist. She won her first gold medal during the 1984 Olympic games of Sarajevo, Yugoslavia, and her second gold in 1988 in Calgary, Alberta, Canada. During her competitive amateur career, she amassed a total of four World Championships, six European Championships, and eight National Championships before retiring from amateur status following the 1988 World Championship.
For more information on the German-American Steuben Parade of NYC, visit Germanparadenyc.org
——————————————————————–
Print This Post