The 9th Annual Wurstfest in Mt. Angel, Oregon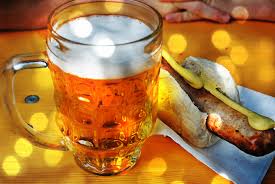 On February 24th and 25th of 2017, the small town of Mt. Angel, Oregon will hold a big celebration to mark the last blast of winter in a salute to German sausage – the 9th Annual Wurstfest. Much like a mini-Oktoberfest all under one roof at the Mt. Angel Festhalle, there is non-stop music, world famous German and local Seven Brides beers, specially selected German and local wines, arts and crafts and specialty foods, a kindergarten area plus lots and lots and lots of sausage. There's a senior day on Friday, February 24th, and on Saturday the "Wurst" 5 and 10k run is presented by RaceNorthwest. Plus, there will be dancers galore.
So dust off your lederhosen, starch up your Bavarian dirndl, and join the happy folk of Mt. Angel for a fun-filled, two-day celebration of the Wurst.
Dates and time: 10 a.m. – 10 p.m. Feb. 24 & 25
Location: Mt. Angel Community Festhalle, 500 S. Wilco Hwy., Mt. Angel, OR 97362
Find more information at www.mtangelwurstfest.com
___________________________________________
Print This Post