Sustainable in Nature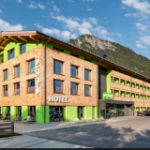 Green is in, and Germany is home to Europe's first passive energy hotel in the form of the Explorer Hotel Berchtesgaden. Opened in December 2014, the innovative property features its own photovoltaic system, strong insulation, and a stringent energy strategy, making it 100% carbon neutral. Surrounded by stunning nature, hikers, cyclists, snowboarders and skiers alike can use it as a base to enjoy the picturesque Alpine Region.
For more information on the Explorer Hotel Berchtesgaden, visit Explorer-Hotels.com
For more sustainable travel ideas, visit Germany.travel
_____________________________________________________________________
Related posts:
Related posts brought to you by Yet Another Related Posts Plugin.
Print This Post