US Soccer Team blows First Match for World Cup Qualification
The US Soccer Team with its German head coach Jurgen Klinsmann (picture) and Austrian assistant coach Andreas Herzog lost their first match in the final qualification for the Soccer World Cup 2014 in Brazil. The US-Boys lost in Honduras (1:2).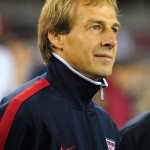 With Timothy Chandler (Nuremberg), Daniel Williams, Fabian Johnson (both Hoffenheim) and Jermaine Jones (Schalke), Klinsmann put four German-born players in his starting formation.
US-Midfielder Clint Dempsey scored the first goal in the match (36.), but Honduras striked back twice (39., 79.) and finally won the match.
Obviously Klinsmann wasn't amused after the match: "It's pretty hard to win here, if not every player strives at being at his best."
After the defeat in Honduras, Klinsmann is more than ever criticized as head coach of the US Soccer Team and some US newspapers ask wether the former Bayern Munich striker is still the right one for the US Team to lead them to Brazil 2014! – GW/Nico Herold
_________________________________________________________________________________________
Print This Post