White Rose Exhibit Tours the U.S. in 2012 and 2013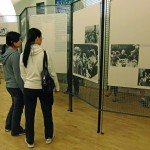 A photo exhibition chronicling the brief yet intense bloom of the Weisse Rose (White Rose) resistance movement against the Nazi regime is currently on tour across the US – courtesy of the Weisse-Rose-Stiftung in  Munich.
The Weisse Rose (White Rose) was formed in 1942 by a group of students and supported by philosophy professor Kurt Huber at the University of Munich in a bold bid to stand up to Germany's brutal Nazi regime. The siblings Sophie and Hans Scholl, Alex Schmorell, Willi Graf, Christoph Probst, Traute Lafrenz, Katharina Schueddekopf, and George Juergen Wittenstein were among the core members of the group. By distributing flyers that denounced the crimes against humanity being committed by the Nazi dictatorship they were putting their lives on the line. They were eventually apprehended, tried for treason by the so-called Volksgerichtshof, or People's Court, resulting in the execution of seven members in 1943. Many other members received severe punishments, including imprisonment. Only one member of this courageous group is still alive today: Professor George Juergen Wittenstein, who resides in Santa Barbara, California.
In the US, the traveling exhibition has already been a huge success.  More than 6,000 visitors viewed the exhibit, for example, at the University Library of Columbus, Indiana, and in Ohio, Mayor Mark Mallory declared September 6, the day of the official opening of the exhibit in Cincinnati, "White Rose Day." The exhibit will tour the US in from 2011 to 2013.
Exhibition Dates in 2012:
January 2 – February 24:
Iowa: German American Heritage Center in Davenport  gahc.org
March 19 to 3:
Pennsylvania: Bloomsburg University of Pennsylvania, Bloomsburg www.bloomu.edu
April 16 bis 27:
Pennsylvania:  Downington High School West Campus
September 17 to October  5:
Massachusetts: Mount Holyoke College, South Hadley  www.mtholyoke.edu
October 29 to November 23:
California: California State University Long Beach  www.csulb.edu
More information at:
www.weisse-rose-stiftung.de
More background information by Weisse Rose member Professor Juergen (George) Wittenstein:
http://www.historyplace.com/pointsofview/white-rose1.htm
Print This Post