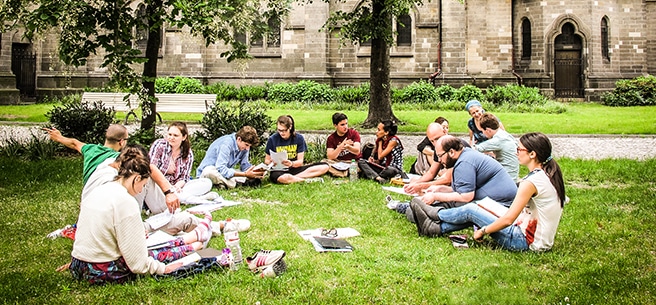 Learning a new language is an exciting adventure. It broadens horizons and opens up access to a new world and a new culture. If you want to learn the language of Schiller and Goethe, it is best to learn it where the people speak, think and live in German. In other words, in one of the many language schools in Germany.
Whether you want to combine your holiday in Germany with a German language course, prepare to study or even work in Germany, or do a preparatory course for an admission test such as the TestDaF or BULATS, German language schools are perfect for learning German quickly, efficiently and in a fun environment.
The German language courses are designed specifically for beginners, more advanced learners, children, school classes, adults, professionals or even German teachers, and are held in small class sizes with well-trained German-speaking teachers. Lessons are taught at certified quality levels and in an exciting international atmosphere.
But if you want to learn the language properly, you also need to understand the country. As such, the lesson plan will leave enough time to discover fascinating German cities and museums, shopping paradises or customs and traditions after class. You can then put your newly acquired language skills to the test on your culinary forays into German gastronomy. Tip: Give the "Leberknödelsuppe" (liver dumpling soup) a try.
Germany's language schools have plenty to offer students and prospective students alike: In addition to lessons for every language level and preparatory courses for the TestDaF and BULATS tests, there is still enough time to get to know the country, people and culture. Or just to chill out.
To read more about people's experiences with these programs, click here.